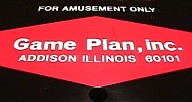 Game Plan produced pinball machines, video games and slot machines from 1978-1985.
Some key employees from Game Plan worked at Williams for many years.
Game Plan did produce a number of cocktail style pinball machines, which were similar to cocktail video games in size.
---
John Trudeau Interview
I did receive some correspondence from a former Game Plan employee, John Trudeau. He worked for GP from '79 to '82 in various capacities, starting in the factory and ending in engineering. John has gone on to design many excellent games for Gottlieb, and Williams. He was kind enough to answer a few questions about Game Plan.
<GamePlanPinball.com>
Any idea what employees ended up at Williams or other game manufacturers?
<John Trudeau>
As far as I know, I was the only one to end up at WMS. Ed Cebula (the guy who taught me the design end), head of engineering at GP, went to Data East Pinball (now Stern). I'm not sure if he's still there or not. One of the game programmers, Bob Wilson, went to Premier when GP closed their doors. I was also working there at the time. I do not know where he went when they shut their doors.
<GamePlanPinball.com>
A tie in for #1, who was the founder of Game Plan, president, etc. Also, who was AES? and how did Game Plan tie into all this?
<John Trudeau>
The name Wendell McAdams comes to mind as the figurehead running the GP end of the company. I believe GP was a wholly owned subsidiary of AES. The parent company was located in Elk Grove Village, IL, a couple of miles from the GP facility (which was located in Bensenville, IL). I also believe the actual president/owner was a fellow named Leo Goldboss (I may be wrong on the first name).
<GamePlanPinball.com>
Can you sum up why they went out of business? (I understand you didn't work there when they shutdown, though)
<John Trudeau>
Any guess as to why they finally went out of business would be just speculation. I really don't know any of the particulars.
<GamePlanPinball.com>
What types of machines were produced? (what were their products lines, etc.)
<John Trudeau>
When I came on board their primary product was the cocktail pinball. That later expanded to the full upright and then into video games and slot machines.
<GamePlanPinball.com>
How did you start out and get involved with Game Plan?
<John Trudeau>
As for myself, I started working in the factory as a game tester. Went on to become foreman of the testing line and then was recruited over to the engineering department. What first interested engineering was the artwork I had brought in to show another coworker in the factory. They asked me to do the next game's artwork and I readily agreed. That was "Global Warfare", GP's only venture into the wider pin format. They only made ten prototypes and I was only able to retain some copies of the blackline screens (the screens and separations were done by Dick White, who's artwork graced a number of their machines). After submitting some design ideas, Ed Cebula brought me in full time to the design staff as an apprentice. I worked a little on "Pinball Lizard" just tweaking the final layout. Then I laid out "Attila the Hun" and a never produced cocktail machine called "Kings of the Road" (a fast car theme). Right at that time, however, GP decided to get out of the pinball business, and shelved all pinball related items. I decided that, although I didn't want to leave, I wanted to continue designing pins, if I got the opportunity. Which I did when I took a designer position at D. Gottlieb in 1982.
<GamePlanPinball.com>
One final question. Why were so many design layouts recycled? For example, sharp shooter 1 & 2, and Coney Island have similar layouts and so does Attila the Hun and Agents 777 (although you designed one, and Ed Cebula the other). Naturally, it appears to be a way to produce more different machines at a lower cost, or is this a common practice among pinball manufacturers?
<John Trudeau>
I believe you are partially right about this one. GamePlan didn't have the resources to spend actually laying out many different designs. "Mirroring" the first design was done as an economy measure to speed the next machine to production. As for the rest of the pinball community, I don't believe this was practiced at all. With all the different designers being employed, no one wanted to be accused of copying anyone else. And here (Gottlieb or WMS), there was time to do the job right. As for Premier, I was the only one designing or engineering in the beginning. Although the layouts weren't "mirrored" or copied in any way, I didn't have the time to spend on each one like I would have desired. And so the designs sometimes were pretty basic.
<GamePlanPinball.com>
Thanks John. Your insight and knowledge is very much appreciated and thanks for your contribution to the world of pinball.
---
Excerpt from Silverball News and Views - November 1997 - The Flipper Age of Dinosaurs.
Written by Tim Ferrante, GameRoom Magazine.
"The short-lived manufacturer Game Plan created LIZARD in 1980 and its titular beast looked more like a dinosaur than lizard with its brontosaurus-like body and tail. Their 1985 LOCH NESS MONSTER, illustrated by Seamus McLaughlin and designed by Sega Pinball's Joe Kaminkow, was easily their most ambitious effort. McLaughlin's rendering of the Scottish lake dweller is awesome; the massive creature swims out of the darkness dwarfing the startled divers and their submersibles. It's a horrific underwater scene, reminiscent of the movie THE GIANT BEHEMOTH. Below the playfield resides a moving three-dimensional model of Nessie viewable through a blue window. The monster roars and flashing lights illuminate the swimming creature as players try to escape silverball doom. It was unquestionably the finest game they ever built. It was also their last; the company folded as the game was being readied for production.While only one prototype is verified to exist (you could actually play it at Herb Silvers' 1996 Las Vegas Pinball Fantasy show), you probably have a better chance of seeing the real Nessie than the pinball machine built in her honor."